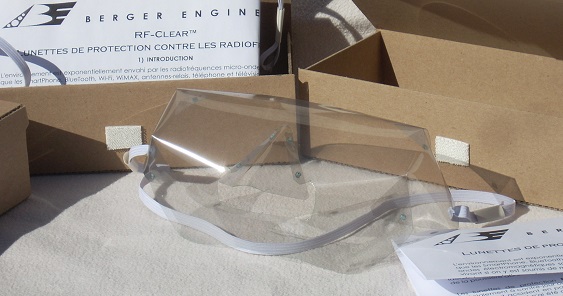 RF-Clear for EHS Persons

These radio-frequency protective goggles have been developed and extensively tested over several years. They offer a very light weight, discreet, protection (-40 dB) against microwaves radiation of today's connectivity. They will last for a long time if treated with great care. They should be worn in conjunction with an overall head shielding garment.

Please contact us if you are interested.

Our organism is using micro-electricity to work correctly. Since radio-frequencies induce currents in our conductive body, these currents may influence our organism. Our body is sensitive to electromagnetic fields surrounding us. Some persons have become Electro-hypersensitivity (EHS) to the exploding environmental pollution (e-smog). Today, with our ever connected-mania, more and more people are suffering from the electromagnetic fields (EMF) and Dr Rau (Paracelsius Klinik St Gallen) said a few years back that 30% of the population is affected to a certain extent.

The first deleterious effect have been found back in 1932 by German doctor Erwin Schliephake who published scientific data in the German Medical Weekly about radio transmitter-induced "microwave" or "radio wave sickness".

RARE CESSNA 150 FOR SALE SOLD

Step into Old Timer's world ! Original C150, 1958, TSN 4985, repainted 1993, new upholstery 2000, new wheels & brakes 2002, hangared. Engine: O-200A TSN 3030, TSO 680. IERA: COM Dittel ATR720, Intercom, TX mode C, ADF. With Maintenance History. CHF 30 k.
As of Mai 2009